Tips
Simple bespoke installation service for our wood-fired pizza ovens
Fuego handmade wood fired pizza ovens are built to last, by artisans, in the traditional way using unique fire clay. What this does mean is that they are considerably more substantial and heavier than cheaper entry level ovens. So how do you get a 700–1,000kg Fuego pizza oven from kerbside, where it's delivered, to sitting in pride of place in your rear garden, on a terrace or even under a pergola? Our highly professional bespoke installation service partner 'Hook-up Solutions' has it covered at preferential rates for our customers.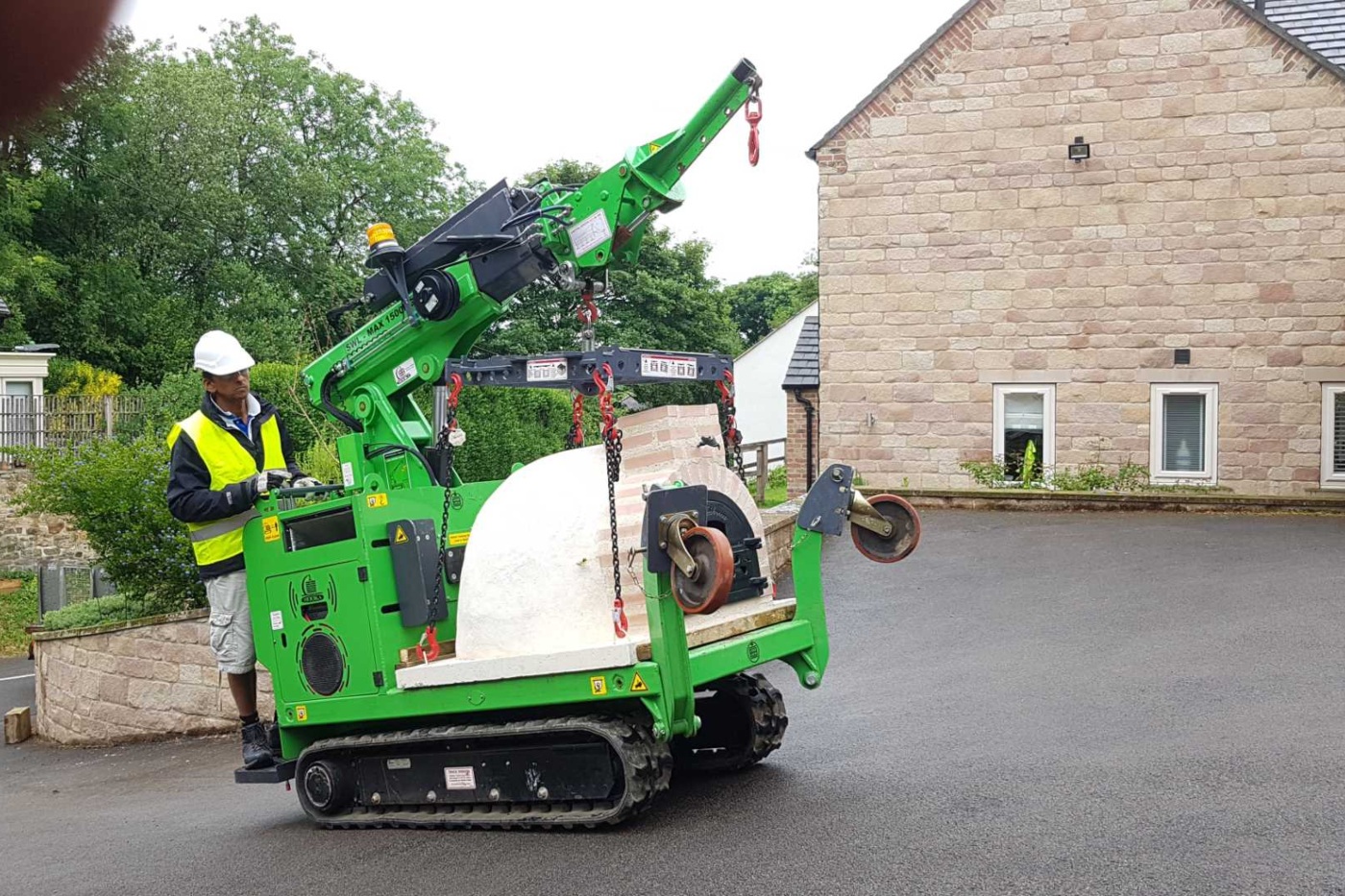 Wherever you are in the country, our bespoke installers can quickly, economically and efficiently lift, transport and carefully place your Fuego wood fired pizza oven to precisely where you need it. The secret to how they can do this is their special British designed and built pick, lift and carry mini tracked crawler crane called a 'Hooka'. Transport mileage charges do apply to get the machine to your property.
Installed with expertise and extreme care
The Hooka has many unique features which make it perfectly suited to moving large heavy objects through routes where there is restricted access. Firstly, when the Hooka and its operator lift your Fuego oven from kerbside, instead of it swinging around dangerously like a pendulum, risking toppling over with the crane, the Hooka lifts then safely sits the oven on the bed of the machine itself. A special 'load lock' system then locks the oven in place ensuring it is stable and unable to swing.
Once locked on to the Hooka, its rubber tracks come into play. These spread the weight and exert much lower ground pressure whilst providing complete stability, compared to wheels. The tracks also enable the Hooka and your precious oven to safely tackle slopes, traverse uneven terrain and even cope with most flights of steps, using aluminium ramps that come with the machine. Special plywood sheeting also ensures that paving and steps are not cracked or marked by rubber. In fact, the Hooka leaves virtually no trace of ever having been there.
The rubber tracks also have another advantage. They mean that the Hooka can turn on a sixpence and navigate awkward corners, even on the narrowest of paths. Plus, being an ultra-manoeuvrable, compact and low machine when loaded, it can pass under arches, lift ovens over walls and even take them through garages, subject to 2.1 metres of height clearance.
Easy to make happen
So, what happens once you've customised and ordered your Fuego wood fired pizza oven? Well, we advise that you contact Hook-up Solutions via their Head Office on 01462 499 642 and they will allocate the nearest machine to you. They will take into account the distance they need to travel to you, the size of your Fuego wood fired pizza oven and also where you would like it installing on your property.
They will also ask you to record a short video on your phone which you then send via WhatsApp to them on their 'video viewer' on 07731 892 881. The video will need to show the route from kerbside to where the oven is going to be installed, highlighting any 'pinch points' or challenging obstacles there may be on the way. Then they will be able to provide a cast-iron quote for their bespoke fitting service and reassurance that they can overcome the installation challenge you have set them.
Preferential rate
As a Fuego customer, you will receive a preferential rate. What's more, as a trusted partner of ours, they will handle your pizza oven with tremendous care and not leave your premises until you are absolutely 100% happy that the installation is millimetre perfect. Everything has to be right. For further information and prices please email Hooka on info@thehooka.co.uk.
North London, Eastern & Midlands Hire
Hook-up Solutions Ltd
Unit 1, Royston Road
Baldock
Herts
SG7 6PA
Tel: 01462 499 642
Mob: 07731 892 881
Southern Hire
Hook-up Solutions Ltd
Unit 1, Dukes Mill
Station Approach
Medstead
Hants
GU34 5EN
Tel: 01420 571 709
Mob: 07971 174 523