How To's
How to install your wood-fired oven
Looking at buying a Fuego Wood-Fired Oven but want to know how to install it? Read this simple guide of tips when preparing your patio or garden for delivery of your Fuego Wood-fired Oven.
Do I need to assemble the oven?
No, all Fuego ovens come ready built with no need for any type of assembly.
Does the oven include delivery and installation?
No, all our oven deliveries are kerbside and do not include installation. Before you purchase, please be aware that our delivery service covers getting the oven delivered to your front drive.  Where the drive is tarmac or concrete, the oven can be set down wherever you want on this 'hard' flat surface.  However, if you have a shingle / gravel drive, the unloading pallet truck cannot operate on these surfaces – so the oven will have to be set down on the nearest hardstanding instead.
Do I need to do some building work prior to installation of the oven?
It all depends what type of garden, patio or BBQ area design you are intending to achieve and where are you planning to fit the oven. Fuego ovens are designed for outdoor use and do require some building work, so you are able to sit the oven on a stable, levelled surface with a stand structure that can take a weight between 450Kg and 1750Kg (depending on the oven you choose) and complete the installation. You can build your oven stand out of materials that match your oven finish such as brick, stone or even painted concrete blocks. Make sure you take the measurement from the base of the oven (available from our website) before you start to build your stand. We recommend that you consult with a professional landscaper or builder before you carry out any building work.
Need a hassle-free solution?
If you prefer a hassle free option and do not want to carry out any type of building work or landscape design, you can also purchase one of our black steel table stands from our online shop as a 'ready to go option' that does not require any type of building work.
PLEASE NOTE
The recommended stand height to sit your Fuego oven is 840mm to which you add the height of the oven base (60mm) to achieve a total height of 900mm.
How do I lift my oven?
All our ovens are set over a steel reinforced concrete base of 60mm thickness, with steel eye bolts set over each corner of the oven for ease of lifting and positioning. Fuego ovens are a heavy piece of kit, typically weighing between 450Kg and 1750Kg.  As such, it is extremely important that you give careful consideration to how you are then going to lift, transport and install the oven in its final required position.  Without doubt you will need some kind of 'mechanised lifting device' for this and we strongly recommend you contact one of our 'recommended installers' who have the correct lifting machinery to be able to handle the weight and size of our ovens.
WARNING
Fuego ovens are a heavy piece of kit and can weigh between 450Kg and 1750Kg. We recommend that you consult with a professional installer, landscaper or builder before you begin to build your stand or attempt to lift the oven into position. THE OVEN MUST NEVER BE TILTED ON ITS SIDE OR ANGLE LIFTED DURING TRANSPORTATION OR INSTALLATION, AS THE OVEN MAY SLIDE OFF THE BASE AND CAUSE PROPERTY DAMAGE, PERSONAL INJURY OR EVEN DEATH.
Third-party installation guidelines
We recommend that you hire a professional lifting company with appropriate machinery to install your oven, it is very heavy and if handled incorrectly could lead to damage to the oven and your property, serious injury or even death. However, if you decide to install it yourself or use a third-party company not recommended by Fuego Wood-Fired Ovens, please read the following installation guidelines before doing so:
Lifting Frame / Spreader Beam
Your oven will be fitted with a 'lifting eye' in each corner.  To ensure correct 'vertical loading' on this lifting eye, the oven MUST be lifted using a suitable 4-point 'lifting frame' system – which will ensure the chains / strops are close to vertical during the lift. As an example, the below image shows the lifting frame used by one of our approved installers' compact crane to lift ovens with an 'as near as possible to the vertical' loading on each corner.
Oven Transport
The oven's lifting eyes are designed specifically for lifting the oven in a smooth and controlled movement onto a transport dolly or when placing the oven on its stand.  They are NOT designed to support the oven whilst it is being transported over uneven ground 'suspended' from a tractor, digger or tele-handler type of machine.  The inevitable 'bouncing' effect on the oven of this type of transport risks overloading the eyelet fixings and could result in their catastrophic failure.  Therefore, please ensure your oven is properly supported underneath during the 'transport phase' of your installation. See the below image showing the oven being transported with proper flat-bed support under its base.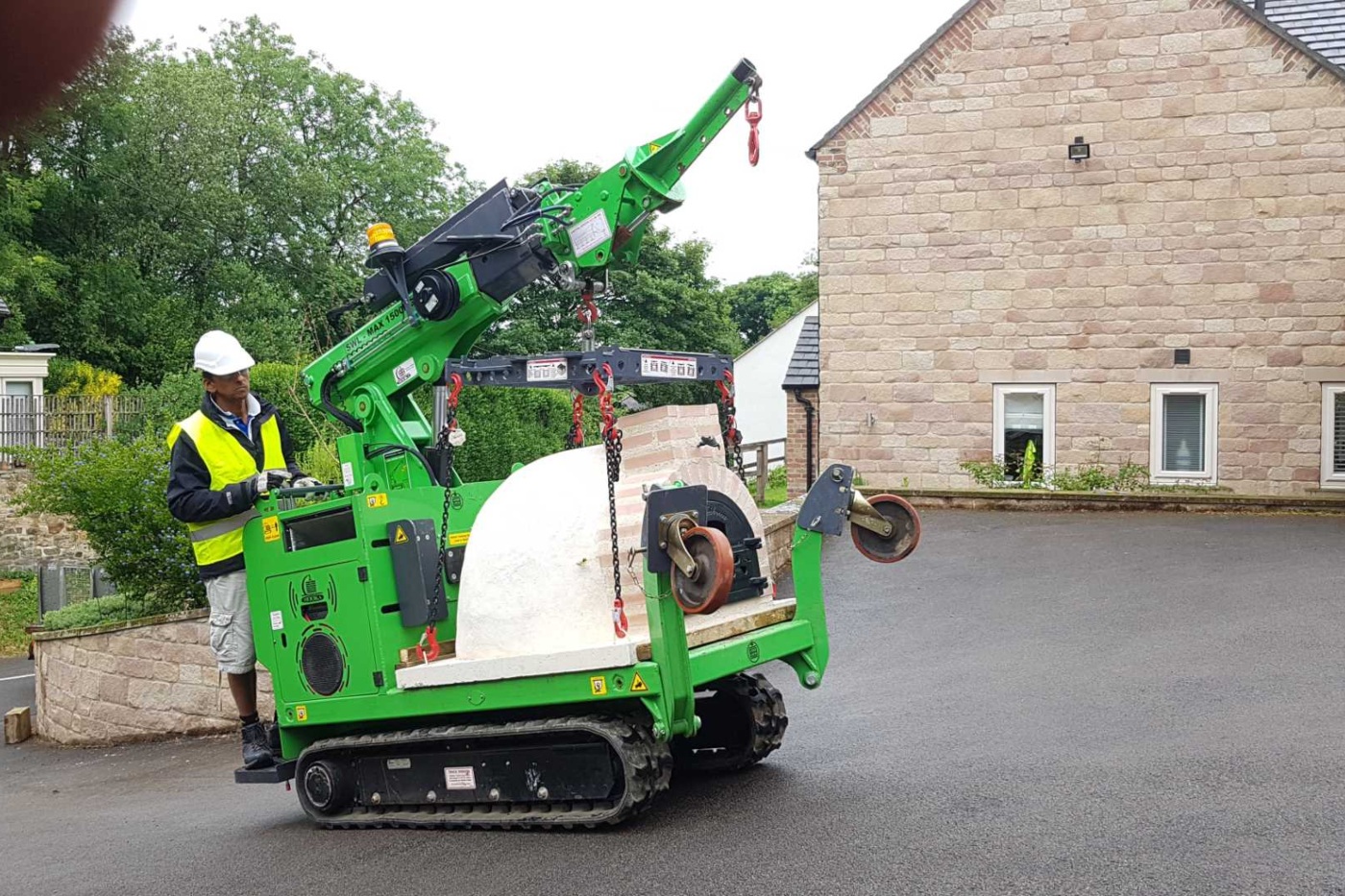 Installation by Engine hoist
Whilst we have heard of ovens being installed using engine hoists, they will be right on the limit of their Safe Working Load (SWL) when lifting our ovens and have no provision to 'extend' their boom forwards to enable placement of the oven onto its base.  Whilst they have wheels so can, in theory, be rolled forward to move the oven over the base for installation, the design / build up of the base often prevents this being possible.  We therefore strongly recommend the use of a machine with a hydraulic extending boom similar to the below image – that allows the oven to be installed with the machine positioned 'remotely' in front of the base.
Installation by Lorry Crane
Assuming there is not enough access room to get your oven into position down an alleyway, OR by removing a fence panel in your back garden and coming in via a neighbour's property, if you choose to lift the oven into your garden using a lorry crane (or similar) instead please stipulate that the oven MUST be supported underneath the base when lifting over yours or your neighbour's property. You should also stipulate that it MUST have a cargo safety-net system attached below the oven so that, in the unlikely event of a lifting eye failure, the broken parts of the oven will be 'caught' by the net underneath, avoiding further damage.
WARNING
Fuego Wood-Fired Ovens will not be held responsible for any type of damage or injury caused should you choose to install your oven yourself or by a third-party company not recommended by Fuego Wood-Fired Ovens.
PLEASE NOTE
We recommend that you fully document your install with photos and video footage to ensure there is absolutely no doubt as to who is at fault should anything go wrong.